Altar Servers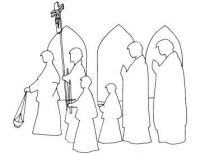 Due to COVID 19 restrictions, no Altar Servers can serve during mass at the present time.  Altar server training will commence once masses are back to normal.
Altar Servers were re-introduced into the Church of St Marys in Holy Week 2010 when eighteen Altar Servers were trained and commissioned to serve in the parish.
The Altar Servers are coordinated by the parents and the Parish Child Protection guidelines are followed.  Click on the following link to read all updated policies. 
Any boy or girl who has received their First Holy Communion is welcome to become an Altar Server in either the Church of St Mary or in Ladychapel.  Prior to becoming an Altar Server, a short training programme takes place. The training programme aims to provide each child with the necessary skills to serve mass and other liturgical celebrations.
This includes learning about the order of the mass, the vestments, the sanctuary and the sacred books and vessels used. Training generally begins in October for 6 weeks. Altar servers are commissioned on the 2nd week in December. The new altar servers serve for the first time at the Happy Birthday Jesus mass on Christmas Eve. Altar servers are co-ordinated by the parents. Parish Child Protection guidelines are followed.
If you are interested, please contact Kulli Adamberg, the Parish Co-ordinator on 087 764 4498, the Parish Office 01 629 3018 or by email maynoothparishoffice@gmail.com.