History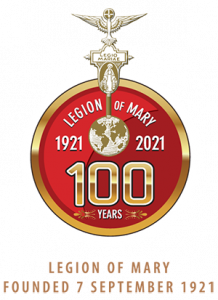 The Legion of Mary was founded in Dublin, Ireland on 7th September 1921. It is a lay catholic organisation whose members are giving service to the Church on a voluntary basis in almost every county.
Aim
The object of the Legion of Mary is the Glory of God through the holiness of its members developed by prayer and active co-operation in Mary's and the Church's work.
To view the main Legion of Mary website click here
Active Membership
The Legion sees as its priority the spiritual and social welfare of each individual.
The members participate in the life of the parish through visitation of families, the sick, both in their homes and in hospitals and through collaboration in every apostolate and missionary undertaking sponsored by the parish. At present we have ten members both men and women. We carry out visitations, particularly to nursing homes in the area.
The Legion of Mary meet on a Thursday at 8pm in the Parish Centre. We have moved from St Catherine's Centre in the North Campus of Maynooth University. Anyone wishing to come along is more than welcome.
Auxiliary Membership
This membership is open to Priests, Religious and lay people who wish to associate themselves with the Legion by undertaking a service of prayer in its name. It is the power source of the Legion of Mary. As St Paul says " take time to pray, it's the greatest power on earth". It consists of prayer said in your own time.